Roving reporter Nicola interviewed Hopeful Lake Kamnarok from its reserve in the Rift Valley, Kenya.

I remember when I was once a home for the second largest population of crocodiles in all of Africa. I used to have thousands and thousands of them in my deep dark blue waters. Algae used to be growing in me. On many occasions flamingos would come and visit, not to live, just to visit. My lush reserve was a breeding ground for elephants and host to countless bird species.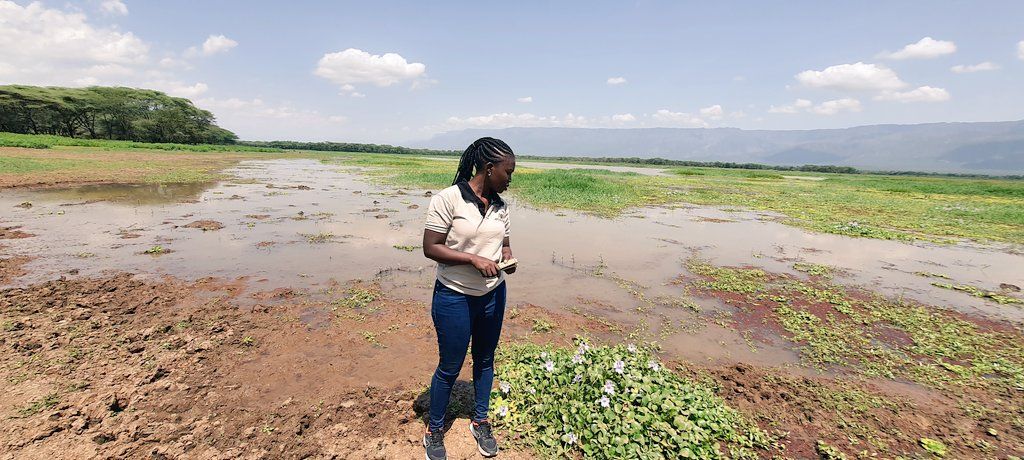 Where once I was an expansive lake, now I'm like a ghost of myself, all that remains of me are murky pools. All of my resources that once sustained life have been tapped. And speaking to the people who have been creeping into the catchment areas, illegally encroaching on my reserve and cutting down the trees that were feeding my resource, you have drained the water that was sustaining my identity and my life. I'm completely depleted and left with hardly a trace.
Lake Kamnarok speaks
I still have the potential to come back. Only if some arrangement could be made for the restoration of my source of sustenance which is the replacement of trees around my space.
I need more trees to be planted. Trees will attract the rain and the rain will be trapped in the catchment areas and some of this water will find its way back to me. Then slowly, slowly, I will come back to life, to the same stunning beauty I was before.
---
Lake Kamnarok was interpreted by
John Kariuki who grew up in Murang'a, Central Kenya and has always been passionate about catchment areas and disappearing lakes. He was previously involved in setting up eco-tourism projects in the Rift Valley.
John says to Lake Kamnarok
All is not lost. There are people who are concerned and taking action. Sooner rather than later you will return to your former glory.  
→ Randomly Tagged
John was invited by Nicola Gale after an impromptu conversation about Africa in a retail store.