Roving reporter Catherine interviewed Cheeky Oswaldé, the little Grey Seal, from her colony rocks off St. Martins, in the Isles of Scilly.    
My name is Oswaldé, which is a modern spin on an old Norse name Ásvaldr, which means to wield power. I like my strong name because I'm fascinated by the power of nature that I see around me every day in the ocean. My family of grey seals originate from Norway and I feel very connected to my ancient Scandinavian roots. I'd love to go there one day.
A few weeks ago, I was like a little puffy ball of cotton wool. But now I'm silver velvet with dark grey spots and have chunky blubber because I feast so well. I'm quite gorgeous.
I'm unique to all my other seal friends because we all have different markings. Mama says that the spots and markings are who we are. And I'll have them for my whole life.
The Iles where myth blends with reality
Scilly is an oddly shaped and otherworldly place, which is well known for its magical roots. It has a microclimate that makes it more like the Mediterranean than the UK. The light here is said to be the most beautiful in the world. The sea has a special glittery energy, which makes everyone feel calm, connected, and free.
At the moment, I'm mostly learning about fishing and foraging. Every day we haul out, which is when we practise deep breathing on the sand, so we can be better divers. I enjoy this time being out on the land because I like looking up at the cliffs covered with yellow gorse flowers. We seals like to relax and we also do this in the water, which is called bottling. We float upright with just our heads sticking out of the water. We sleep like this in the kelp forests too.  
When I put my mind to something, it usually appears in front of me with little effort. And so I always say to myself when I'm swimming, "I'm going to see a fish. I'm going to see a fish." And then one appears. Like magic it is.
Oswaldé the little Grey Seal speaks
Humans up close
One day a kayak appeared carrying two pink people, one long and one little. They put on a new skin that made them look slippery and silky like a strange fish. They splashed about in the water, which startled my whole family as we were chilling up on the rocks.
Me, I'm just curious. Seeing they were friendly I launched into the water first, even though my dad said don't get close. We pups love to play. Soon my friends joined me and we formed a circle around them.
They were smiling, full of joy to see us. We seals know how to charm with our big watery eyes and adorable faces. Some of my friends say I'm cheeky, a bit of a flirt, because I do like to interact and get really close.
Big plans by myself
My family will probably stay in Cornwall forever. But I'm actually getting a bit fed up with all this hot weather. I'm too blubbery for water this warm. I have big plans to travel all by myself somewhere cooler. I have cousins all over the Arctic Sea who I want to meet in Ireland, Scotland, Norway, and Canada.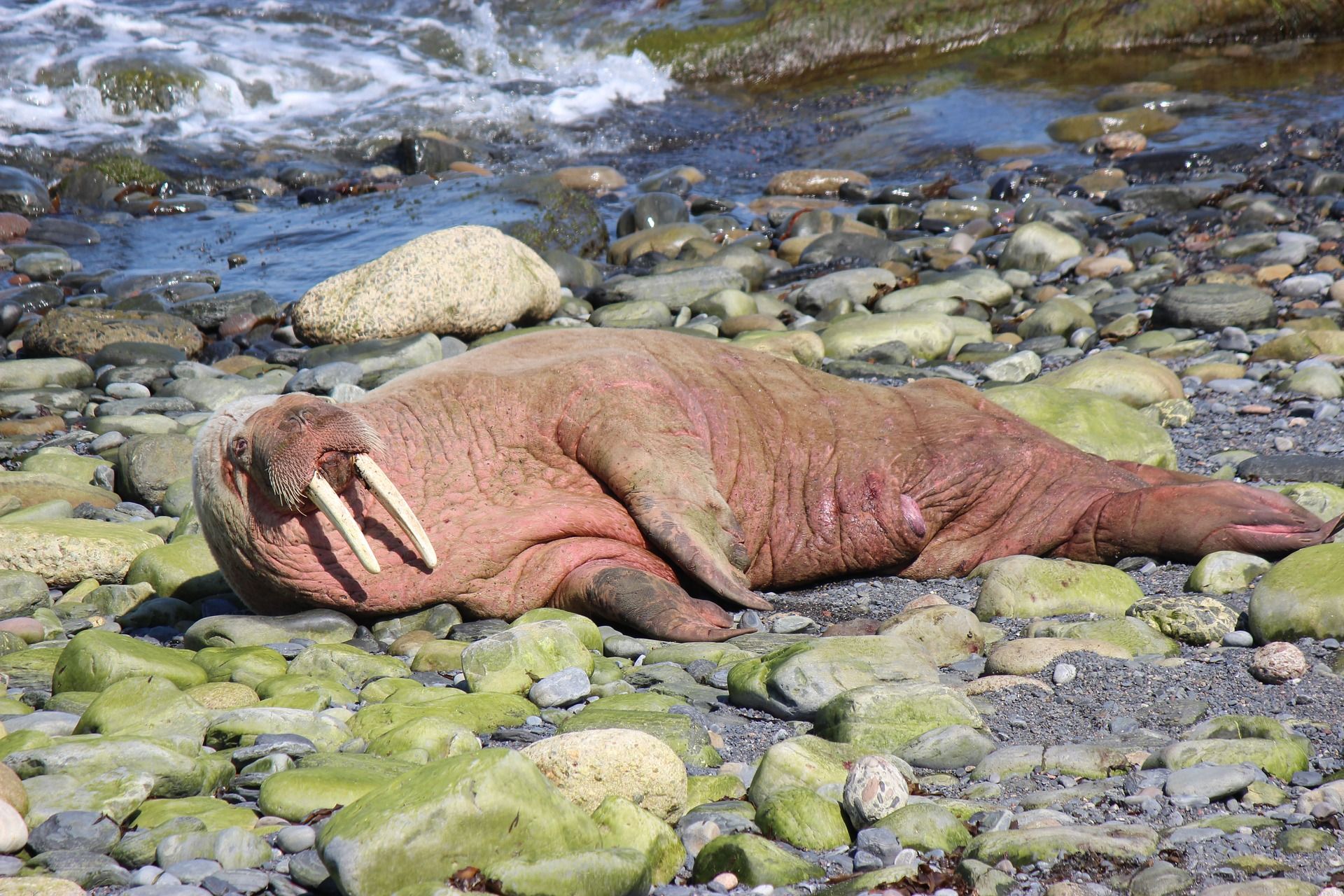 I didn't think it was possible until I met this humongous adventurous Wally the Walrus. He had travelled all the way from the Arctic to Spain and also visited us in the Scilly Isles. Some people say he was lost. But I thought, "Here's someone like me, inquisitive, and seeking new connections and something out of the ordinary."
---
Oswaldé the Grey Seal was interpreted by
Emilie Mai, textile designer, who together with environmentalist Owen Maddocks swam with a small colony of about 20 grey seals in the Eastern Scilly Iles. "When I came up to the surface, the entire colony was circled around me, like I was part of some sort of salty seal ritual. So many sizes of seals of different colours and shapes. One of them was a large black male with a roman nose. I think he was Oswaldé's dad because he kept a watchful eye over her and me."
Emilie speaks to Oswaldé
We have a special connection. I think you seals can sense our emotions and there's a genuine understanding between us.
Randomly Tagged
Emilie was invited by Catherine Archer with whom she shares a love of natural dyeing. They bonded over a big cauldron of indigo dye in the dye lab at Bath Spa University.
Cover photo edited. Original by Tim Parkinson.