Roving reporter Emilie spoke to designer and architect Sofia Hagen from her London-based studio about the creation of Twine – a translucent seat made from recycled medical waste and inspired by sea and forests.
My co-founder Lisa Hinderdael and I launched our studio in 2020 during lockdown. We're both from an architectural and interior design background. We're used to doing large-scale external and interior architecture as well as art installations and product design. Due to its flexibility in terms of scale, product design has become our main focus.
Lisa and I have always had a sustainable approach to all the projects we do. Not just in terms of the materiality we use, but also the afterlife of the product. Our smaller products can be increased and turned into large-scale art installations. The outcome is a blend of art and design, keeping a circular economy in mind.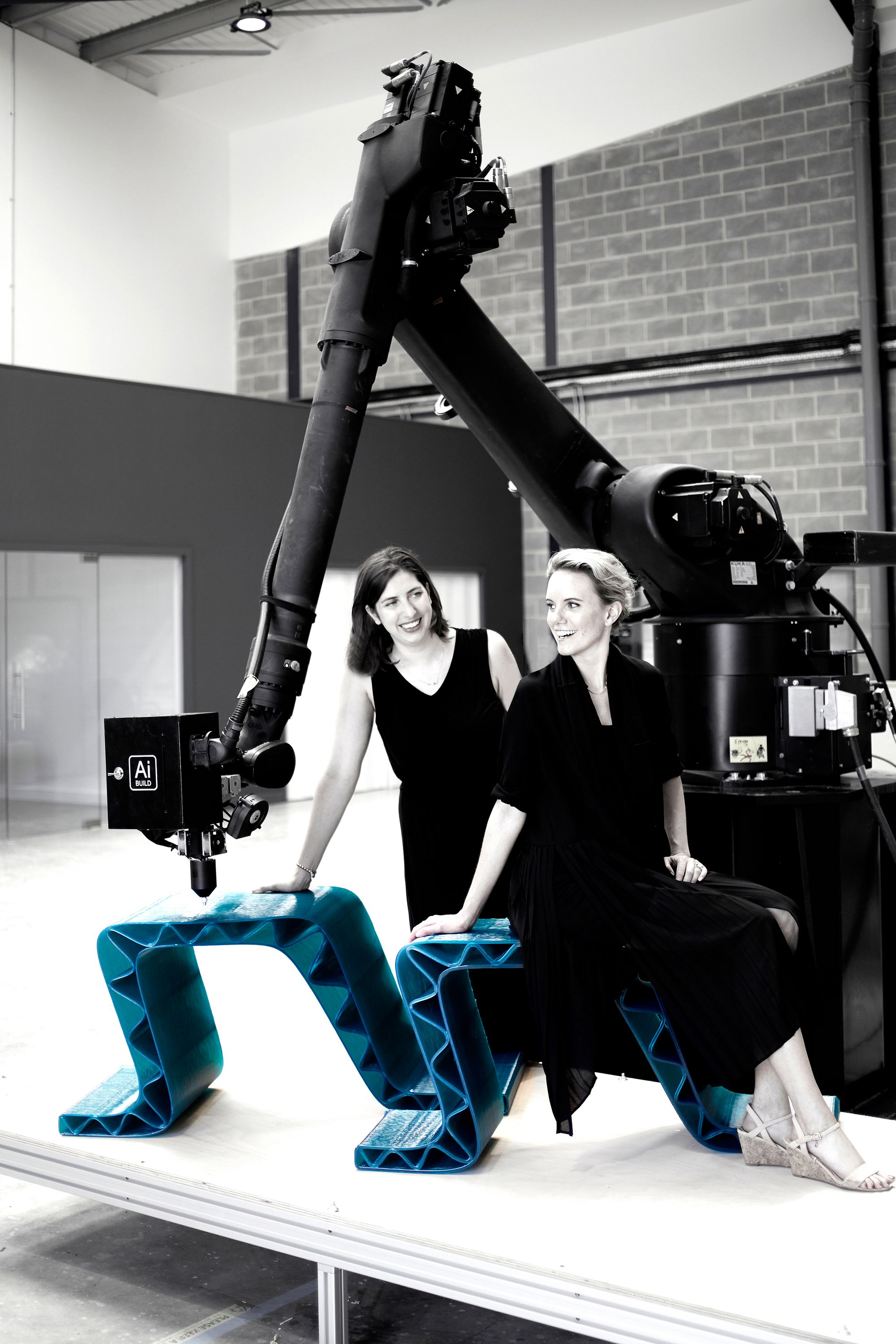 Ideas driven by materials
Before creating innovative products we do extensive research in terms of advanced technologies as well as sustainable and waste materials.  We get to spend a lot of time with manufacturers and suppliers in their workshops and factories. We have amazing conversations with people from different fields, such as science, automotive industries, artists and biologists, etc. And usually one interaction leads to the next.
Many of our ideas come from collaborating with those who are on the cutting edge of what will be the future of materiality. We work with craftspeople as well as advanced fabrication and robotics.
Our ideas are context-driven, be it the materiality itself, the location of the suppliers, or the surrounding environment which determines where the project will take place. For instance, we just launched a new light fixture made of 3D printed sawdust called "Cocoon." The only supplier we found who could technically make it was in the US.
Plastic waste – the reusable material
The Twine seat was created to be part of Rossana Orlandi's Guiltless Plastic Campaign. It launched at Milan Design Week 2021. The brief of this competition was to create public, urban, outer furniture. It required designers to use some form of plastic, and to recycle or up-cycle it into a high-end design product.
We collaborated with Reflow, a social enterprise based in Amsterdam, to create our product using medical plastic tray waste that couldn't be re-used for health and safety reasons. The thermoform trays are heat-treated, ground down, and then extruded into filament or pallets, which is then usable for robotic fabrication. This material is UV resistant, heat resistant, super durable, sturdy and strong.
Our intuitive design process allowed us to try out multiple configurations that invite you to play with the bench seating. The seat was brought into shape by large-scale 3D printing methodologies using custom AI software by London-based software engineers AiBuild. They normally work on prototyping for Formula One or Boeing. It was an incredibly inspiring and fruitful collaboration and very challenging for all of us.
Creating the playful seat
The competition required us to create playful urban outer furniture that was interactive to engage people, whilst being modular and scalable. This is what defined Twine's dynamic shape.
As you approach the Twine seat you can see its double curvature. Due to its playful shape you can turn it upside down and stack it in several configurations which can be mirrored horizontally as well as vertically – hence the name Twine.
Everyone has their own individual way of interacting and playing with it, whether they sit or slide on it. There are endless possibilities for play.
Sofia speaks inspired by planet earth

The Seagrass that Glows
The 2% pigment which gives Twine its colour is called Aquatic Breeze from Reflow's Seagrass range. Because Twine is made from translucent recycled r-PETG, it picks up the colour of its surroundings, rather like the sea.
It can go from light blue, all the way to dark forest green which is quite ephemeral. It becomes a different piece depending on where you put it. The material doesn't look solid, it has this liquidity, so the seat literally glows.
Organic curves re-enacting the mountain-scape
Just recently we launched a new bench called "Contour" in collaboration with 3D print specialists Concrete 3D based in the Vorarlberg region of Austria. It's a stunning mountainous area in the Eastern Alps, full of baroque architecture alongside pioneering modern and sustainable design.
This new creation re-enacts the mountain-scape of the area using 3D printed concrete made of eco-friendly cement mix. It's the most sustainable use of concrete you can possibly have.  The organic curves of the seat have been printed layer by layer, and designed to mimic the topographical layers of the mountain scape in which the seat can be placed.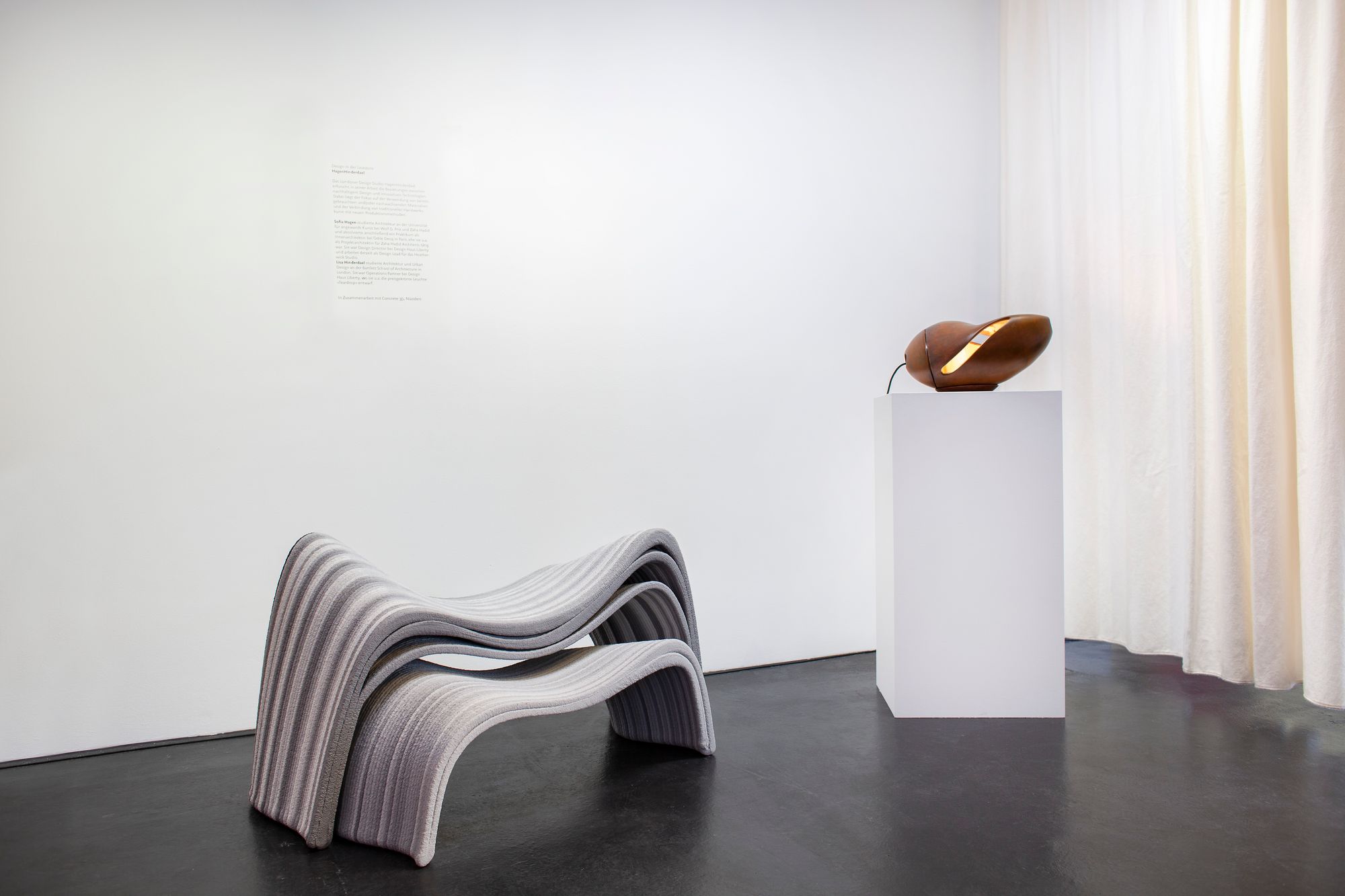 ---
Twine was created by
Sofia Hagen and Lisa Hinderdael, both earth-conscious creators of sculptural objects and furniture at the intersection of innovative technology and sustainable design. They are passionate about the afterlife of discarded materials, "keeping a circular economy in mind to inspire future generations."
→ Randomly tagged
Sophia was invited by Emilie Mai after spotting Sofia's installation at a London event that focused on how design and sustainability can create healthier and greener urban spaces.
⤷ What's next
Emilie would love to visit emerging social enterprises in Amsterdam to explore different uses of recycled materials in the making of sustainable objects.
Cover photo edited. Original by Emilie Mai.