Roving reporter Emilie spoke to poet Jake Metcalfe from his home in Trowbridge, Wiltshire, about the creation of his poem The Beech Cathedral, inspired by a local woodland.

I wrote the poem shortly after returning from a walk in Erlestoke Woods. The woodland was fully decked out in spring's green garments, and the annual return of a blue bell carpet was well underway. They dramatically change the woodland floor and seem to speak and appeal directly to the imagination.
At this time of year, after what felt like a rather long and arduous winter, the return of colour, warmer lights and softer shades, such as they flood mutedly and discreetly from multiple angles, from sinewed root to poised and motionless branch, is to become immersed in an extremely evocative and inviting landscape.
It is a landscape that is intimately linked to feeling, the foremost of which is so often, at least for myself, something akin to a homecoming.
Jake speaks inspired by planet earth
One of the great mysteries
I have no one set way of writing a poem. The whole planet feels like one giant poem to me. It was Hölderlin who stated that "poetically man dwells on this earth," and this experientially rings true for myself. Picasso told us that "inspiration exists, but it has to find you working." Poetry is a mysterious thing, an "inexhaustible artefact," but it is up to us to go and seek it. For myself, rarely does it wait around to thrust itself on my path. A regular writing routine is useful.
As I have come to understand it, writing poetry is more than just something you 'do.' Robert Frost described it as a "condition." It is an attitude, or an approach to life, one having to do with the willingness to claim your life for yourself, and to ground that life in praise and a devoted kind attention, despite the surface level realities of chaos that we're living through. It is the"clarification and magnification of being," as Jane Hirshfield has beautifully put it.
Even driving a forklift
In my experience, there is no let up from the presence of poetry, of the poetic. It really does feel like I'm on the job 24/7. The great majority of that time is not actual composition, but of noticing. It is like being the fisherman's hook, suspended where it's deep, reading to snare anything that presents itself, from whatever angle.
During my work hours, I'm often sat on a forklift, loading and unloading lorries. Having done this for some years now, it feels like a physical extension of myself. Many of my poems have begun this way, by noticing the quiet kind of beauty that might easily go unnoticed.
There have been countless poets whose full-time occupations have been something other than just poetry. William Carlos Williams was a paediatrician and many of his poems have become timeless reflections of his work life because of his uncanny attention and ability to "clamp the mind down on objects." He wrote that "the purpose of an artist, whatever it is, is to take the life, whatever he sees, and to raise it up to an elevated position where it has dignity." This serves as a powerful credo for myself as someone who aspires to make art.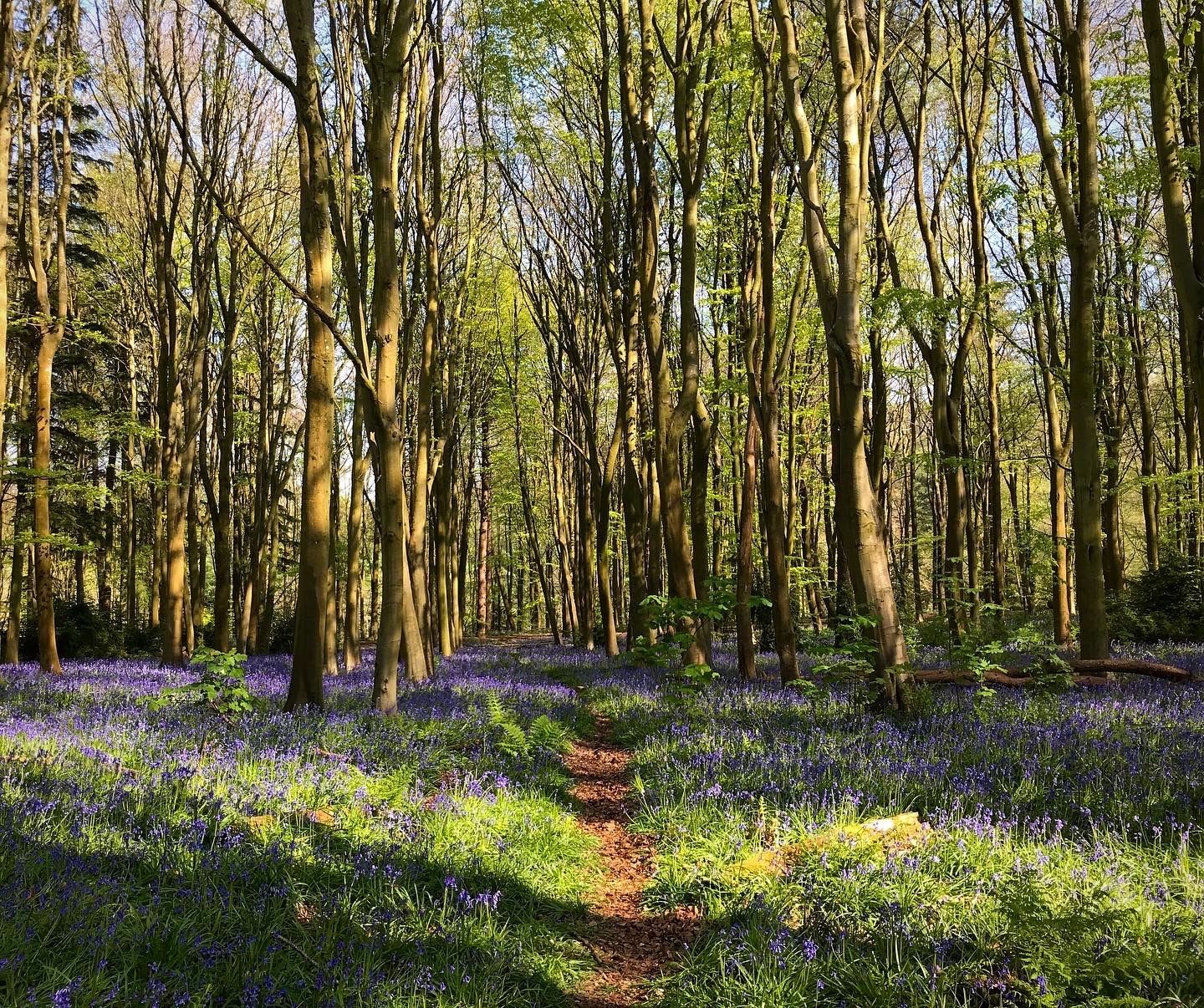 Beech Cathedral
I make a dwelling underneath the trees,
embedded where the breaching light shafts come
to pass through Earth's green density with ease
and enter in my open eye as One,
from this beech cathedral's spring time ceiling,
partially tiled with pointed leafy tips,
sheltering its flock of bluebells kneeling
in emerald and violet shaded strips.
A pulse pervades the rising sap of minds
immersed in deep seclusion off the way,
in hushed eruption that unearths and finds
the root to bloom the living hour and day,
that hums in evergreen behind my eyes
to ripen on inside and seize the skies.
---
"Beech Cathedral" was created by
Jake Metcalfe, poet and bedroom musician. He enjoys writing and recording his songs and developing his musical style. Jake says he loves walks with his partner and his dogs through new and familiar natural landscapes (and deciding where and when to come back with a tent!)
→ Randomly tagged
Jake was invited by Emilie Mai after sharing his poem with her. She believes, "It's as much a kindness to write a poem for yourself as it is to share it with someone else."
⤷ What next?
Emilie would love to interview designers who create installations in natural places. Get in touch
Cover photo edited. Original by Jake Metcalfe.