Roving reporter Nicola interviewed Clothes-hamper-diving Fitz, the Goldendoodle, from its perch on the living room couch in Langley, British Columbia.
I'm a sock thief, through and through. So if you leave a sock out anywhere, even in a clothes hamper, I will climb in and grab it.
My main thought is to hide it, and keep it, so you never get it back. I hide it under my pillow in my bed 'cause no one thinks to rummage there. My bed is my safe space which people aren't allowed to touch. That's why I stuff socks in there so no one ever finds them.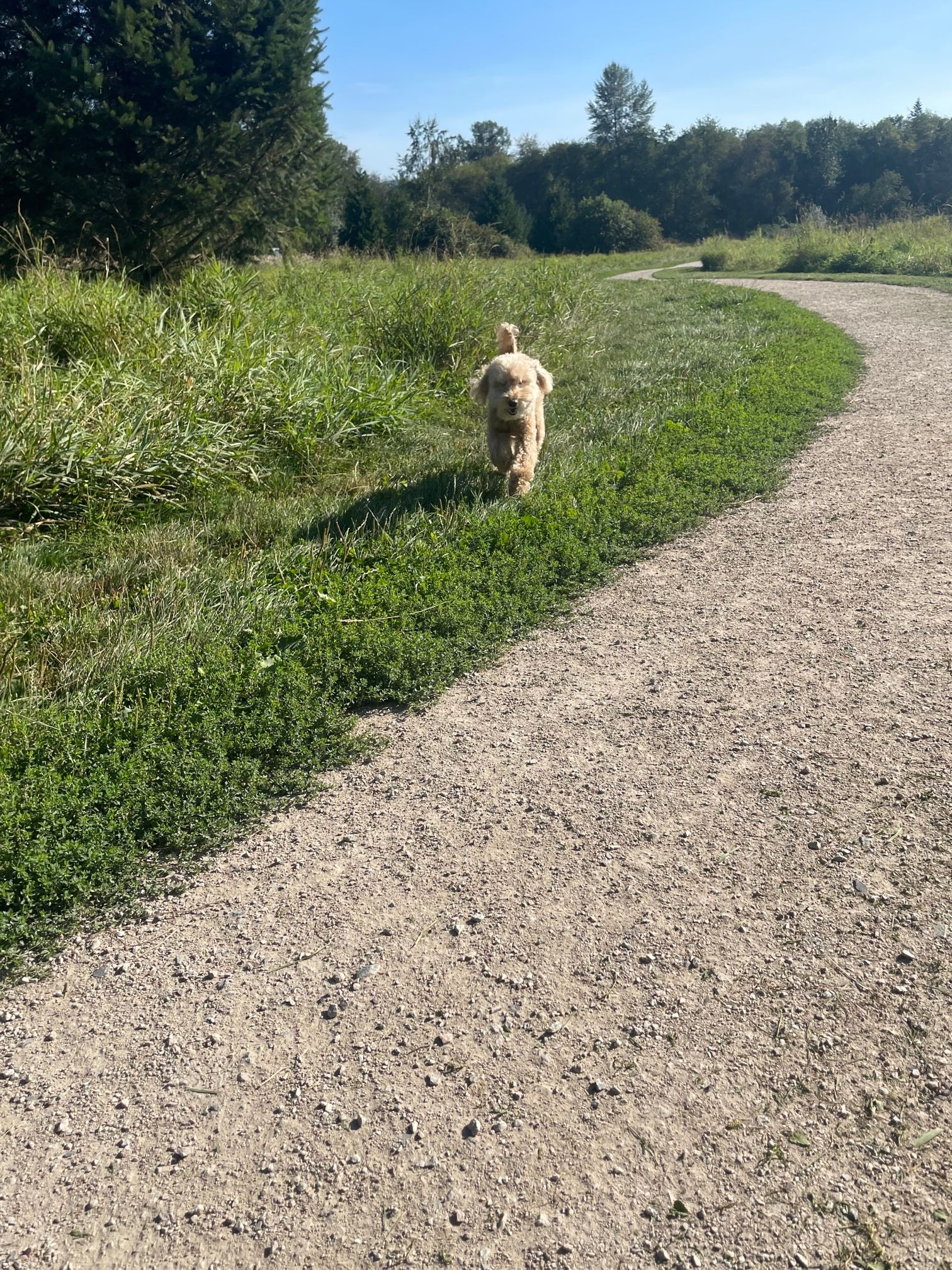 A turn for the worse
A few days ago I became really sick and was throwing up and in a lot of pain. My family took me to the vet. I had to stay with the vet for a whole day and night with this funny-looking, annoying tube in my leg. The vet didn't know for sure what it was but it seems my tummy was infected by something.
Luckily, my dad brought me my blanket and my reindeer stuffy. So I did have a friend overnight. A day later, when my family came, I heard the door open and could hear their voices. I've never been so excited in my life. And had the biggest smile ever.
All I wanted to do was get out of that door, run to my family and bring them a toy in my mouth. I always greet them with a gift and nudge them with my nose.
As I ran I freaked out. I didn't have a gift. I was upset and feeling insecure. So I tried to use my leash and give them that. But it wasn't doing the trick. Then the assistant brought me my stuffy toy which I gave them. And I got all the cuddles I wanted.
Fitz the Goldendoodle speaks
Couch therapy
Right now I'm perching on my couch.  It was the first thing I did when I came home. So I can look out my window at my garden and keep an eye on all the birds and squirrels running around.
My tummy is a little bit upset. I'm trying my best to get better. Really, I just want to go outside, off the leash, and chase those birds and squirrels away. You see, it's my garden and I'm the king of it.
I'm desperate to go for a run and play, but my mom won't let me. She's still worried.
---
Fitz was interpreted by
Hope Wilde, loving big sister of Fitz, who has scars from snowboarding racing and lights up when coaching sports to kids with autism.
Hope says to Fitz
Playtime with you makes my day.
→ Randomly tagged
Hope was invited by Nicola Gale with whom she once compared notes on being in the zone while playing competitive sports.
Cover photo edited. Original by Hope Wilde.