Roving reporter Emilie interviewed designer, artist, and sculptor Poppy Lawman from her studio on a busy street in Oslo, Norway.

I came to Norway because my husband had wanted to travel here and suggested that I do my masters in design. Studying was a great way to make friendships right off the bat and plug into a community. We thought we'd stay for two years and see from there. But we just loved this place and four later years we're still here.
I'm happy to call Oslo my home. It's beautiful, a perfect-size city compared to larger cities where I used to live like Los Angeles and London. It's small enough to really get to know people and to be known.
Where I live is a haven next to the river that goes from the lake above Oslo down to the fjords. It's lovely to be so near that I can walk up to the forest or walk down to the sea from my house.
Making objects that last with emotional connection
I mainly work in my design studio, which is all painted white. Here I have my tools and lots of tables covered with different material samples for testing. As a maker of slow furniture and objects I'm always exploring new ways of making things that are both functional and sculptural - ones that you can enjoy in and out of use.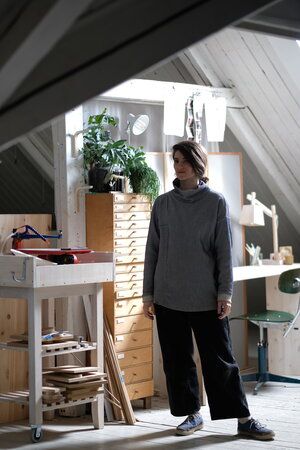 From my perspective, there's a big focus in Norway on a more holistic way of life. People are connected to the land around them and seem to have a good life-work balance, which I appreciate. You're not expected to work 12 hours a day. It's a much slower way of life - which is a real draw for me.
My life speaks
When I had moved from Los Angeles to London, England, I ended up working for a set designer and we were making objects that were going to be thrown away the day after the photo shoot. Everything we created was just for the photograph.
That's when I began to get into slow design as a way of slow living. I started thinking about what sort of sustainable objects would help to connect us more to what we're doing, and to the environment around us. Creating things that could last. Fewer objects but ones we could have an emotional connection to that would enrich our lives. Scandinavian design does this very well.
---
Life was interpreted by
Poppy Lawman, designer, artist & sculptor, who is into rock climbing and more recently bouldering. "It's really fun. You have to figure out the best route for you.  Someone else might do the same climb in an entirely different way. It's like solving a math problem. Getting to the top is the solution."
Read more in our upmakers series about Poppy's creation of the Papirstein chair made from spruce pulp.
Poppy says to life
People in Norway value a much slower way of life. It's a real draw for me given my interest in slow living and slow design.
→ Randomly Tagged
Poppy was invited by Emilie Mai after Emilie met Poppy's mother just as she was preparing to take a cold November water swim on a Cornish beach in England.
Cover photo edited. Original by Cathrine Hammel.